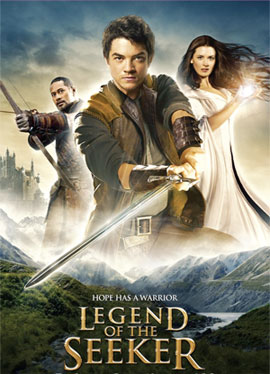 Terry Goodkind's The Sword of Truth series (first book: The Wizard's First Rule) has recently become a TV series, dubbed Legend of the Seeker. It's quite good for a TV show, though it apparently deviates from the books enough to invoke the book fans' wrath (though that doesn't take much, as you may have noticed…).
The show is produced by ABC studios, though it airs on a rather odd collection of stations, being syndicated on CW and Fox stations as well as ABC. You may want to enlist the help of TVGuide.com to find out where it airs in your area.
The show has run since early November, and has had seven episodes shown so far. The eight episode will be released on January 10, after the holliday break that many shows are taking.
Thus far the show has performed well, despite being shown on the tail-end of prime time.
If you missed the first seven episodes, you can catch-up via the magic of the internet. Hulu.com has them for you to watch (if you live in the United States), with minimal advertising during the videos.