In celebration of the much-awaited continuation of the Wheel of Time series, penned by fantasy novelist Brandon Sanderson in the absence of the late Robert Jordan, Tor Books is offering to let us give away three sets of the books that started it all.
Three lucky Fantasy Folder readers will receive, by random drawing, Robert Jordan's The Eye of the World and Brandon Sanderson's Mistborn. Here's how you can enter:
Leave a comment on this post. It can be anything; why you want the books, a funny experience you had related to one of the series, whatever you want. Be creative. (Haikus are encouraged!)
Please make sure that you leave a valid email address when you comment. Wewill need it to contact you if you win, as we will need to ask for a shipping address.
If you retweet this post on Twitter and leave the perma-link to your tweet in your comment, you will be entered twice into the drawing, giving you an extra chance.
RT @fantasyfolder Win a Copy of "The Eye of the World" and "Mistborn" http://su.pr/6hlB54
You can only enter the contest once. This contest is only open to residents of the United States, Canada, and the United Kingdom, as Tor cannot ship the books elsewhere.
The drawing will be held on October 20, 2009, and the winners will be announced after we forward the shipping addresses to Tor.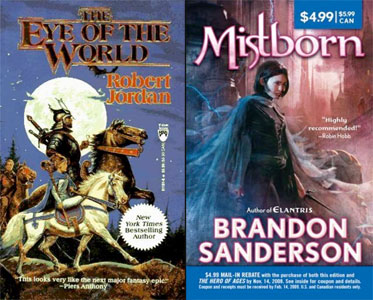 Entries are now closed, at 12:00 AM October 21, 2009. Winners will be picked shortly with the help of Random.org.